Gwragedd Annwn on the beach at Hollyburn Sailing Club, Dec. 28th, 2013.

A grey day, the water is flat.  A good day to row….The last day of the year.

Looking to the North, leaving the club behind.

 A seal follows me out, looking for fish, but I have none.

Steel grey West Vancouver Waterfront.

In the Distance, a freighter approaches, entering English Bay for the Inner Harbour

 The freighter will pass under Lions Gate Bridge before I can cross the shipping lanes.

The Harbour Police boat shoos the fishermen's boat out of the way.

Freighter in, power boat out.

Leaving Siwash Rock behind.

The gun emplacement above Siwash Rock.

Ducks ahead.

The flock takes flight.

The ducks fly towards Siwash Rock.

Awash Rock (not Siwash Rock)

Rowing past Ferguson Point.

The wrecked sailboat on the shore.

Rowing closer.

WN 6832 RC, what sad fate befell you?

Her keel is chewed off.

Rudder is gone too.

The cabin is compromised by ocean water, her cockpit is graffitied.

 Her mast is ashore.  I head towards False Creek.

The "Drip" is caged.  Why?

The Munin heads out into English Bay.

A slight breeze into the creek.

Granville Island Market.

 Rowing into the creek.

 Boats on the Dock in False Creek.

There are still a few "Hippie boats" left.

A pretty cutter anchored.

No dinghies at the dock.

Under the Cambie Street Bridge.

Cambie Street Bridge.

Clearing the Cambie Street Bridge.  The Aqua bus is a lot faster than I am.

The tents where the "Odysseo" by Cavalia show is.  South Side of False Creek.

Rowing out of the Creek.

Left-over sculpture from Expo86.  I have never rowed under it before.

Looking up at the sculpture.

The sculpture rotates with the tides.

South shore of False Creek.

North Shore of False Creek.

Good-bye Granville Street Bridge.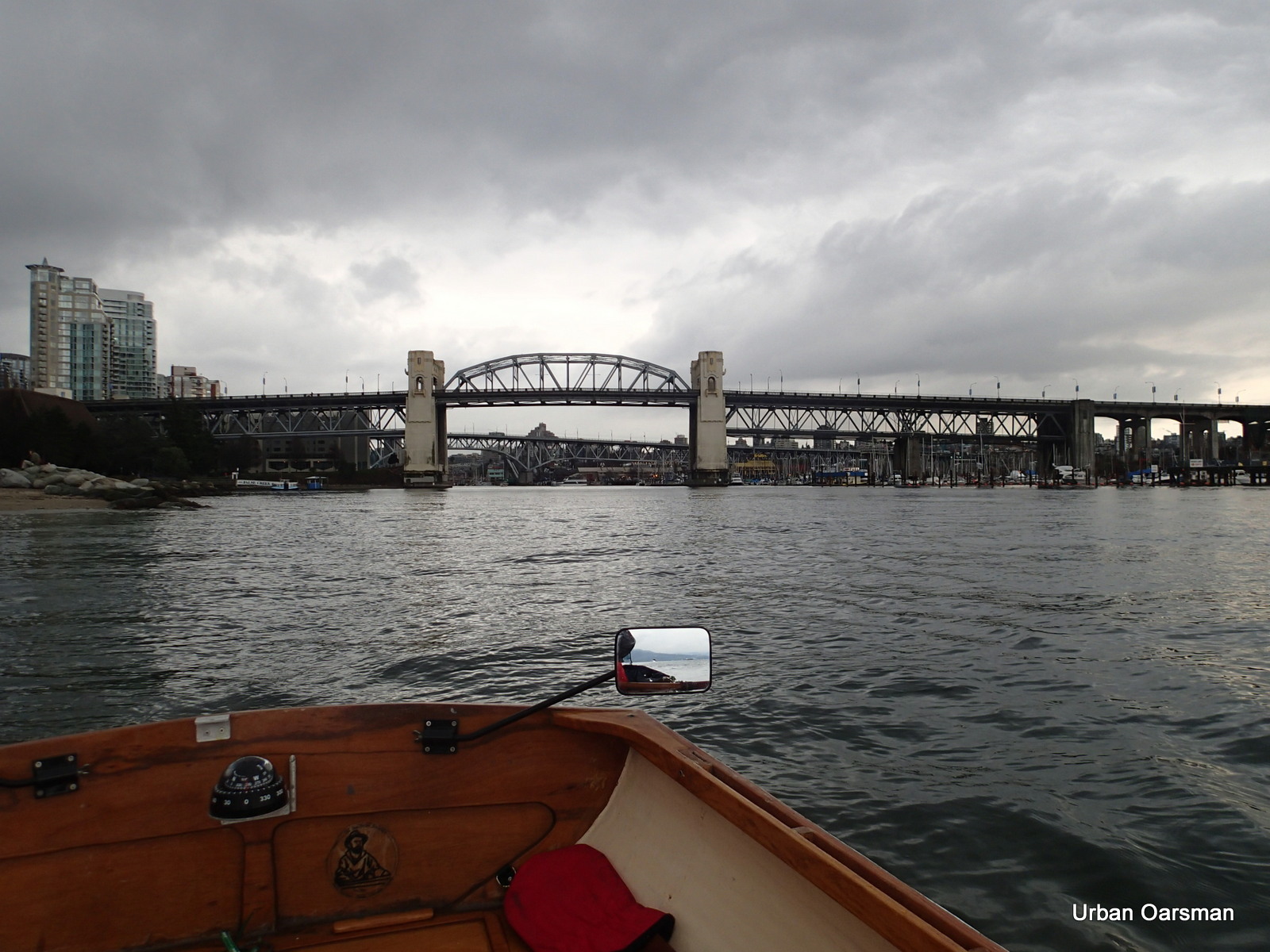 Good-bye Burrard Street Bridge.

It is too early for Crow-flight.  Where are the crows heading and doing?

Why are the Geese following the crows?

Leaving the Geese and Burrard Bridge behind.

The Munin heads back in from the bay.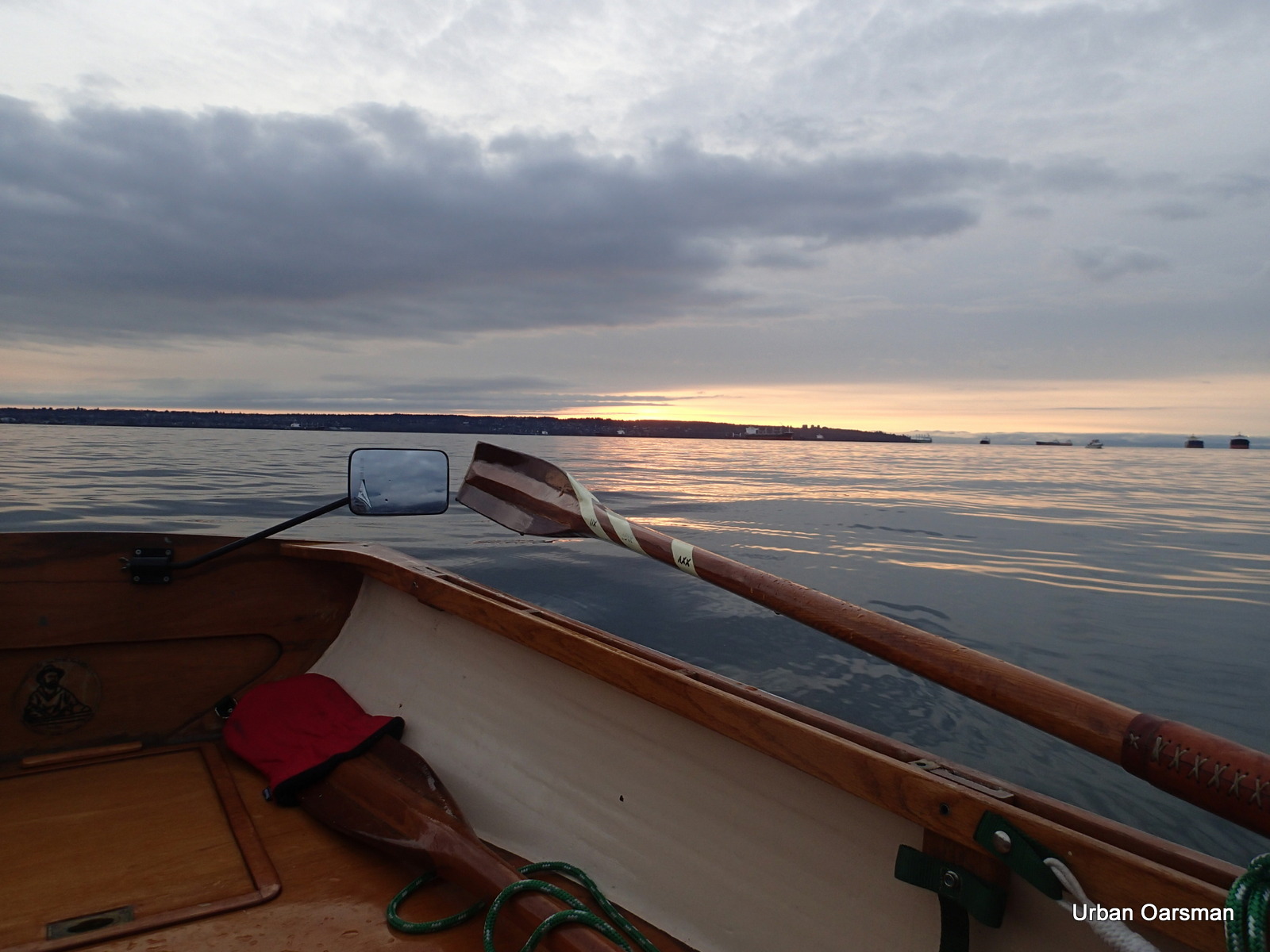 Slate grey sunset?

Reflection off of West Vancouver Building.

Close-up.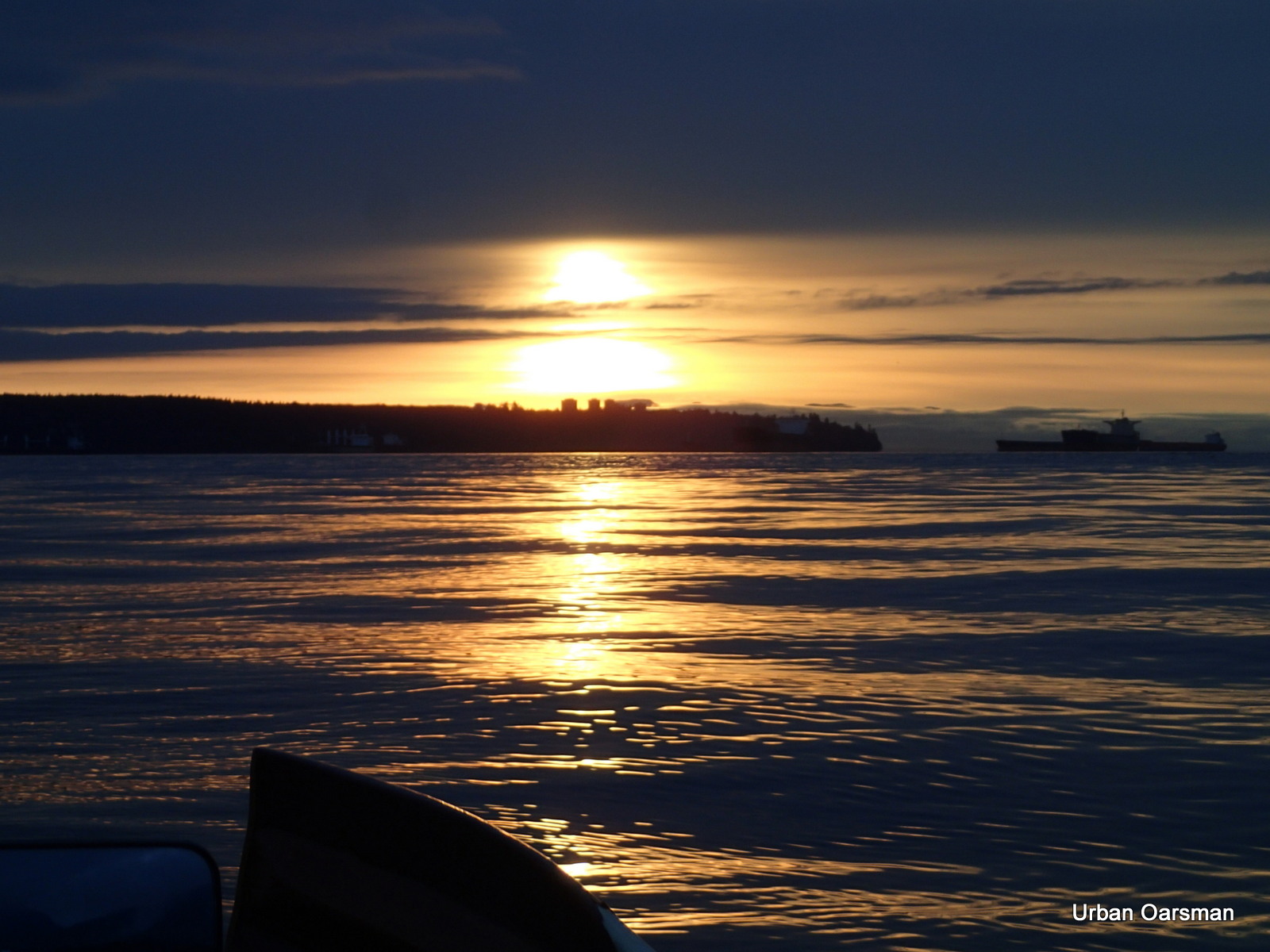 Sunset begins.

Freighters lit by the setting sun.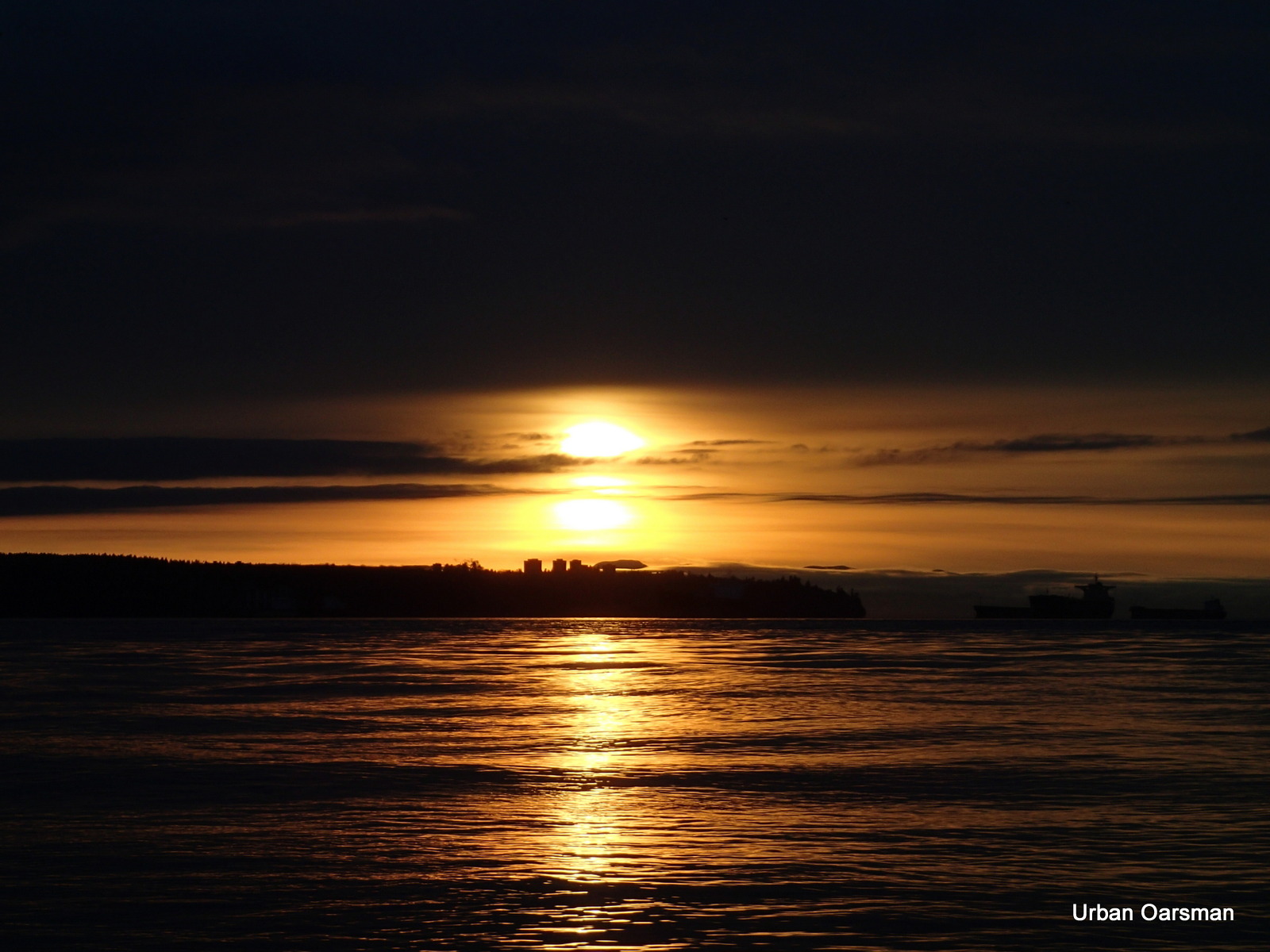 The sun gets lower.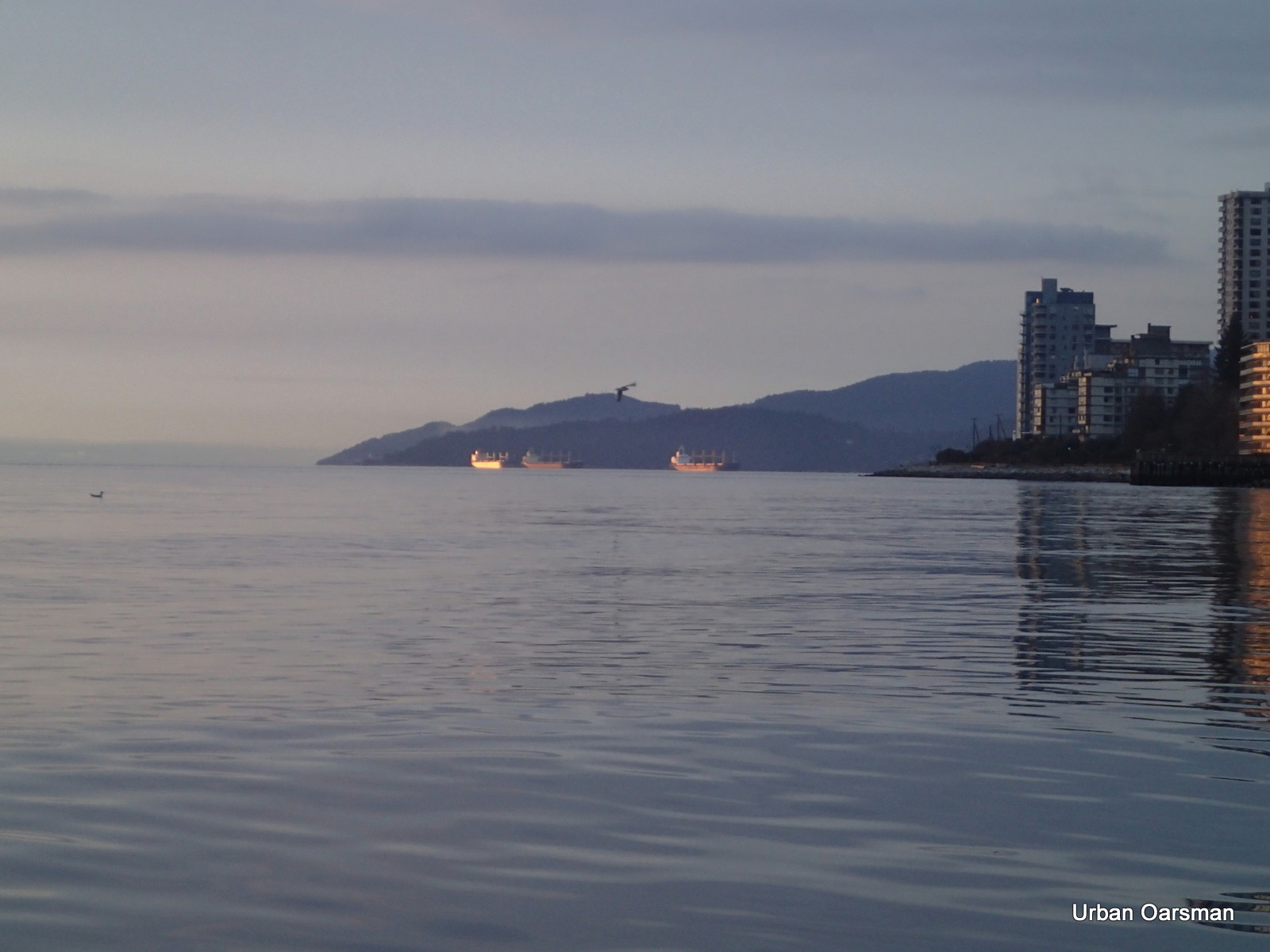 The freighters still glow as the sun sets.

Getting lower…….

The freighters still glow.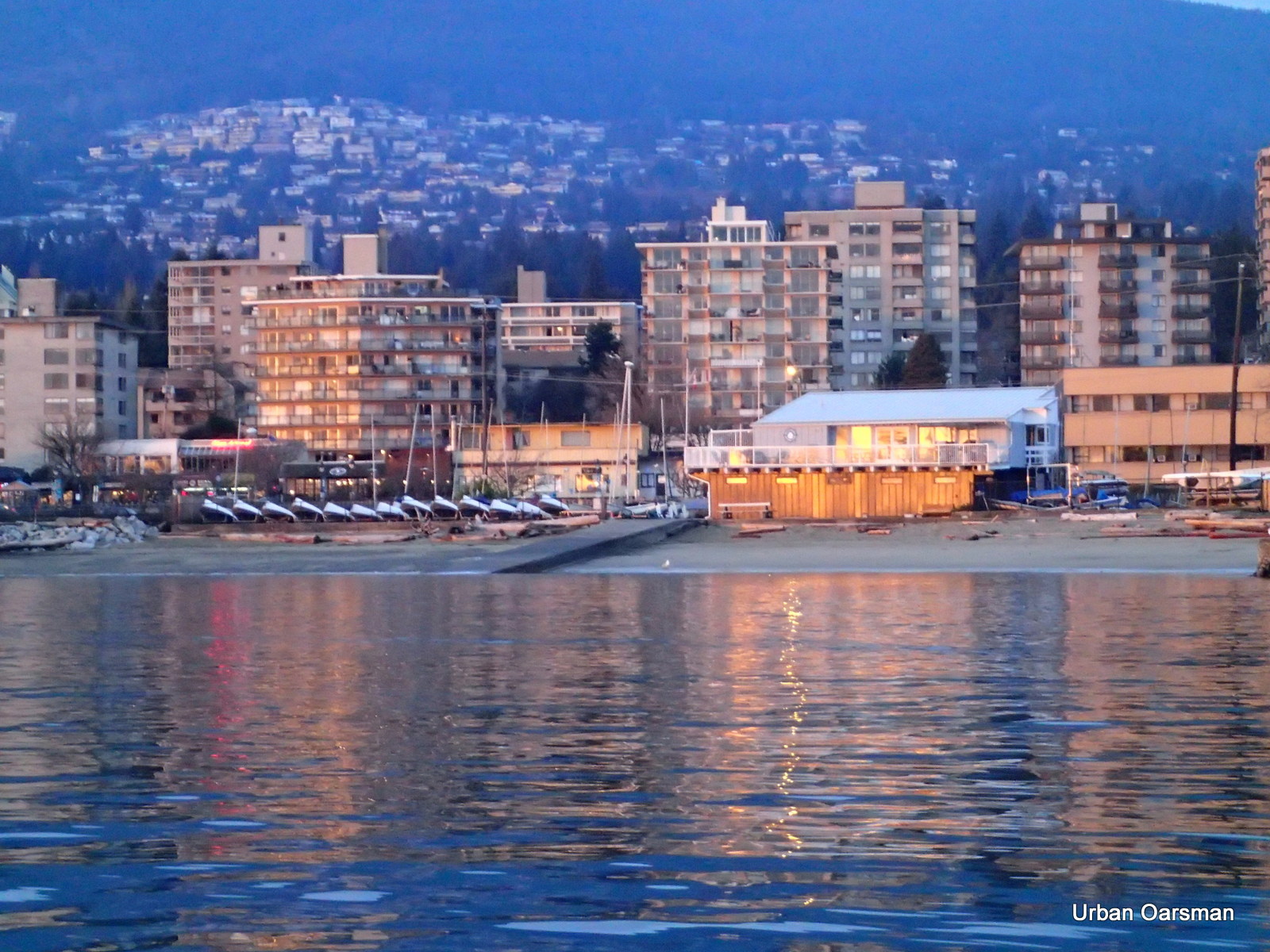 Hollyburn Sailing Club Glows in the sunset too.
   
Going, going, going……
 
On a day like this, the sunset seems to go on forever….

 Crow-flight as the sun sets…

I row on towards shore as the sun sets.

Passing the fishing pier at Ambleside.

Gwragedd Annwn on the beach as the sun sets.

 Happy Sunset Rowing.
Mike