Google Earth map of the trip:
For the second time, the Urban Oarsman rowed from Squamish to the Hollyburn Sailing Club. This time, the write-up for "The Spreader", the Club newsletter was written by fellow paddler, Ken Parr. This is Ken's account of the trip. I added a few "additions" in italics.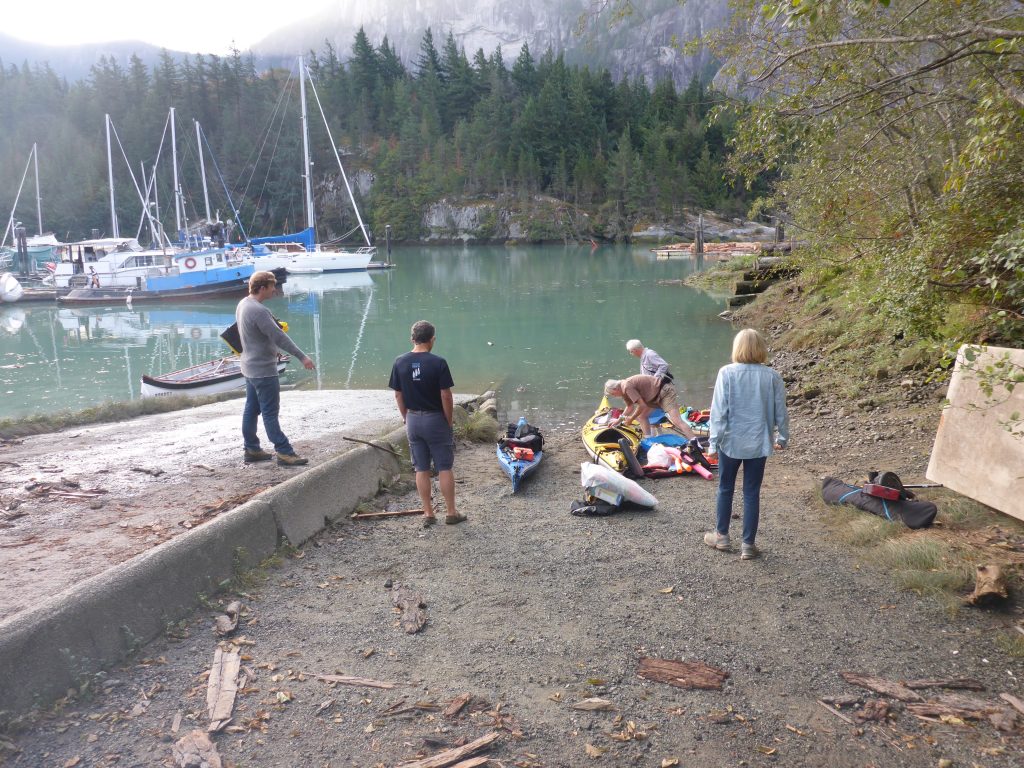 Squamish to West Vancouver –by
Kayak and Rowboat by Ken Parr

On the Labour Day long weekend, a group of HSC adventure seekers
put into action a plan to spend some quality time abusing our bodies
over a number of days, on the water of course, from Squamish to HSC
world headquarters in West Van. The plan was simple… Leave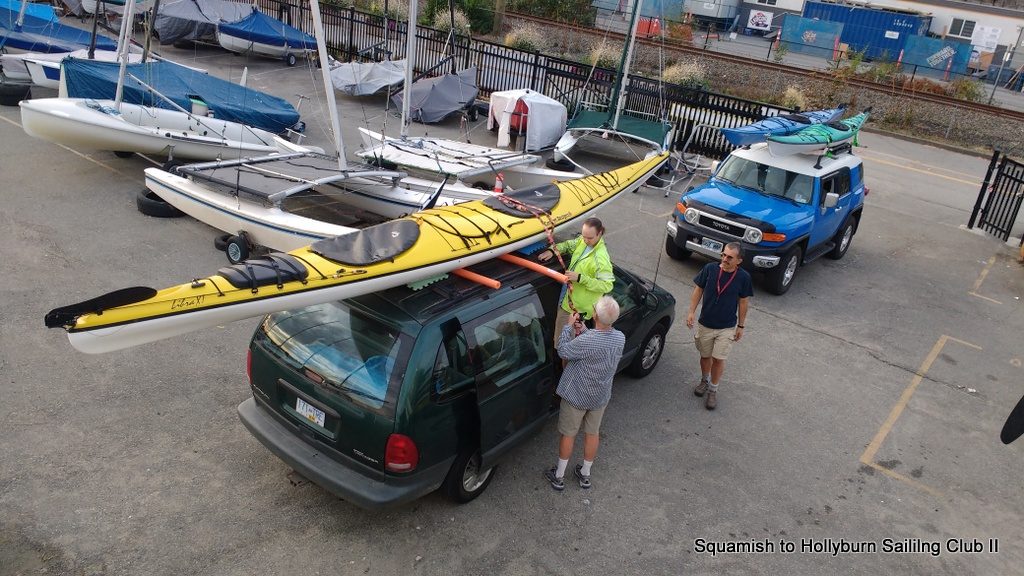 Squamish in the early AM, and paddle hard, with 2 nights of camping
along the way. Our route going south was to go West around Gambier
Island, and would eventually, over 3 days, be about 82 kilometres.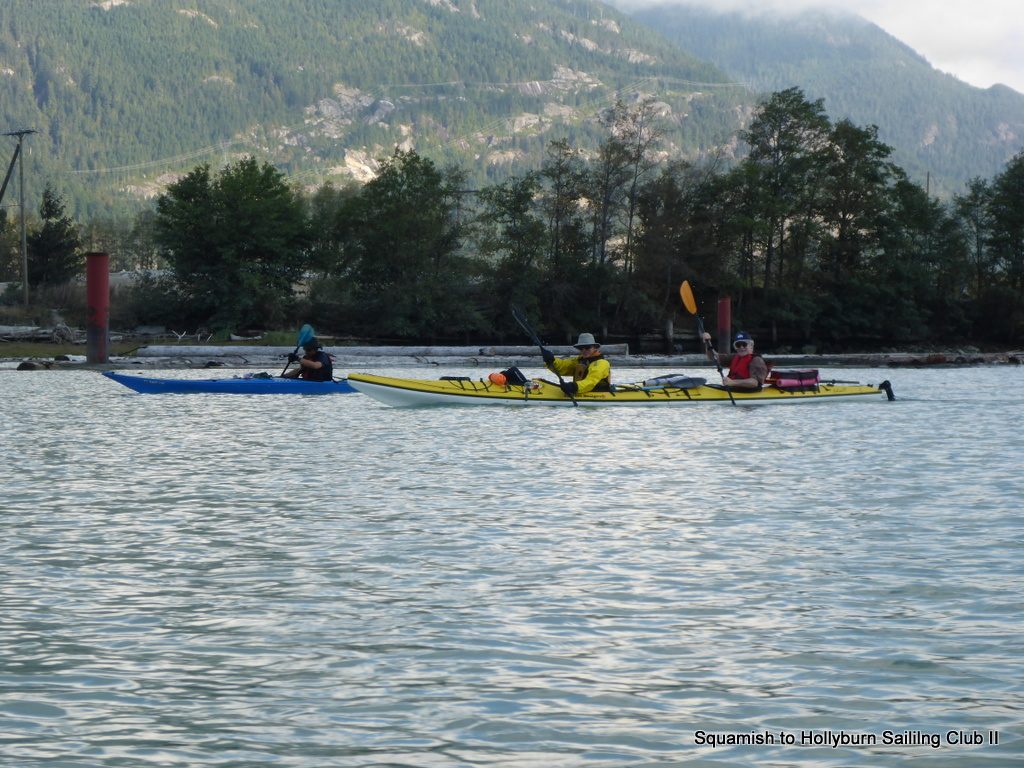 Our equipment for this adventure was safe and robust. We had GPS
and ample safety gear, maps and backup systems. Mike of course was
Captain of his "battleship"… the tested and sturdy "Gwragedd Annwn",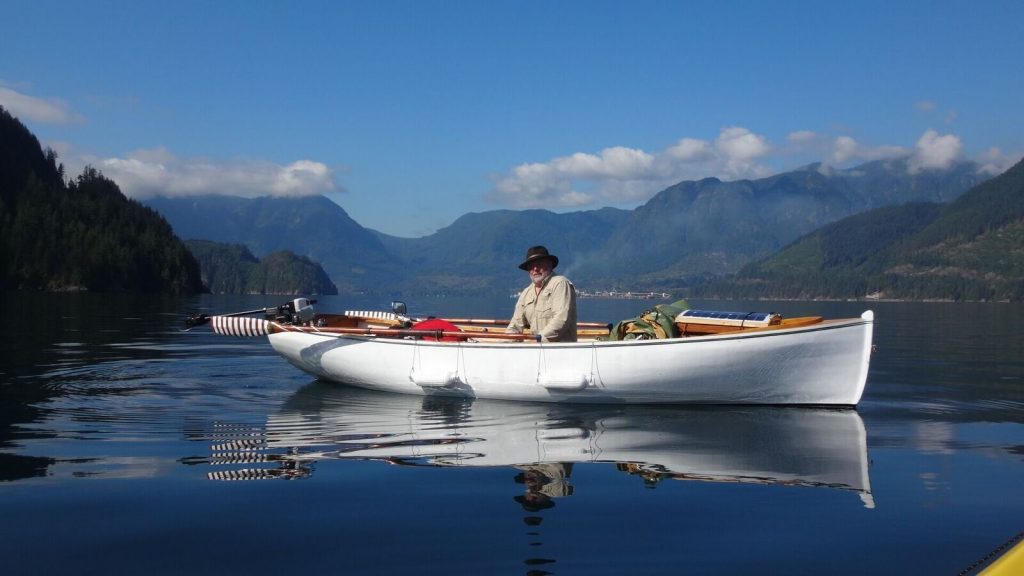 complete with steel (actually bronze) keel to do battle with the barnacles. The rest of the crew had kayaks… plastic and fiberglass. Meals were simple: Maciej and Rueben were great chefs for communal feasts; drink was adequate; comradery was high; laughter and smiles were abundant.
The weather was fortunately warm and mostly sunny. There was a Strong Wind Warning for the Northern Howe Sound (for both Saturday and Sunday) and the winds were as expected and predicted. The winds were forecast to build in the late morning until reaching their peak in the afternoon. Mike got hit by the outflow (actually inflow, into Howe Sound between Bowen and Keats Islands) winds on the morning of the third day. At times the waves were sometimes about 4 foot.
On Saturday Sept 1st we left Vancouver about 6AM, and drove to
Squamish (in two cars, my FJ and Steve's minivan. I arrived first and offloaded the two single kayaks and launched Gwragedd Annwn at the Squamish boat ramp. Gwragedd Annwn was fully loaded, so, I left right away. The kayaks are twice as fast as I am and they will catch up and pass me shortly) with the help of kind family members, we off loaded our gear
at the public boat ramp. After stuffing things away in all the nooks in
our boats, Maciej, Rueben, Steve, and Ken set out going South.
We caught up to Mike in his row boat at Watts Point on the east
side of Howe Sound.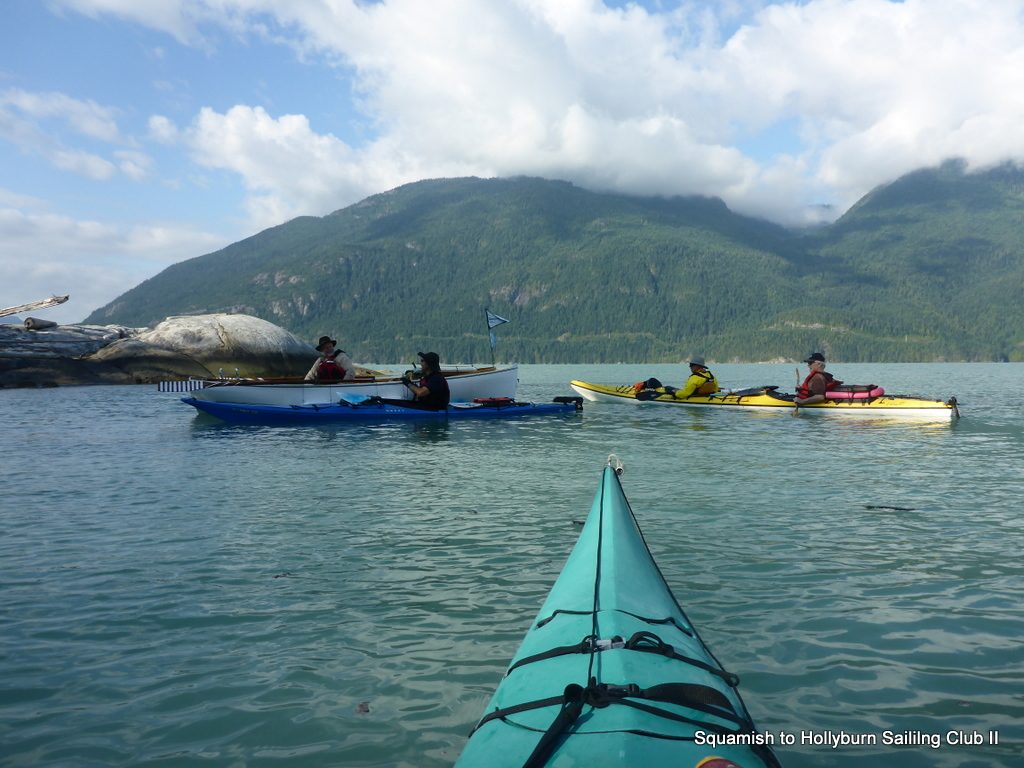 We then paddled to the west side across choppy (and windy, the wind was so strong that I could not make headway against it. I took shelter along the west shore of the sound) seas to Zorro Bay, arriving about lunch time. This proved to be a delightful bay, sheltered, pretty, with a pebble beach, and part of the Sea to Sky Marine Trail. (I arrived much later, using Gwragedd Annwn's electric trolling motor to make headway against the strong inflow winds)
After a relaxing lunch and Maciej's tasty sausages,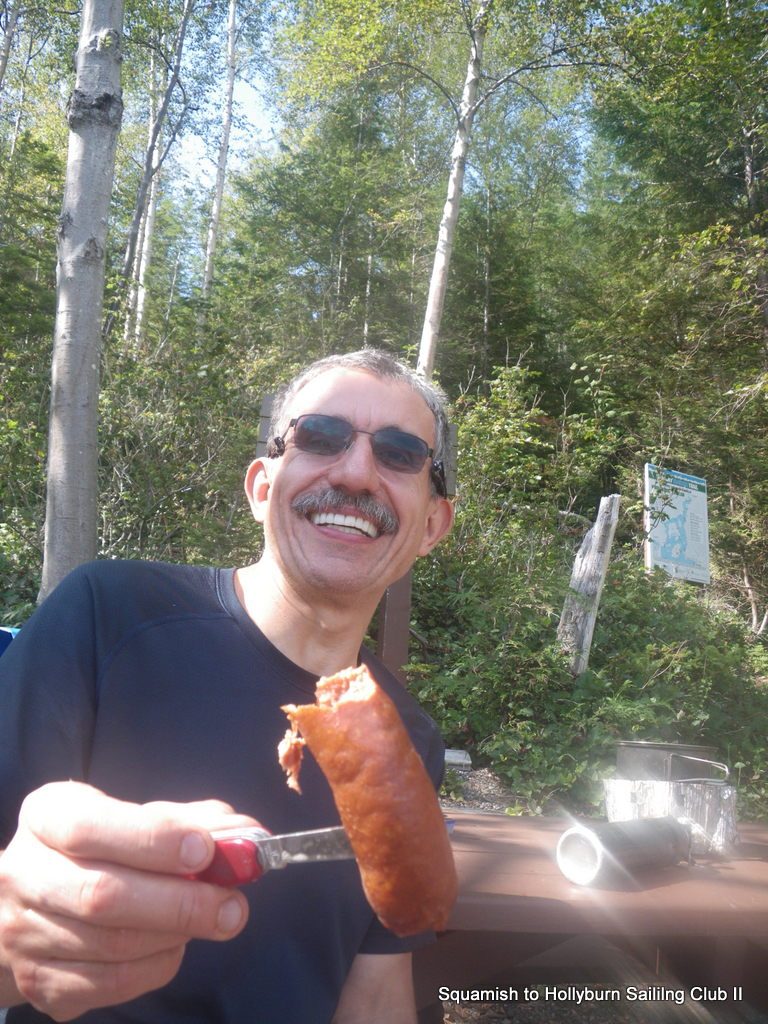 Mike caught up with us after battling against the head winds. We
waited a few hours for the wind to die down some before we left on the next leg to Islet View, a small campsite overlooking Anvil Island.
Bernd, the contra explorer, joined us while we were resting at Zorro Bay, en route North, to our delight! He left West Van early on Saturday, and rendezvoused with us, on his way to Squamish, all in one day!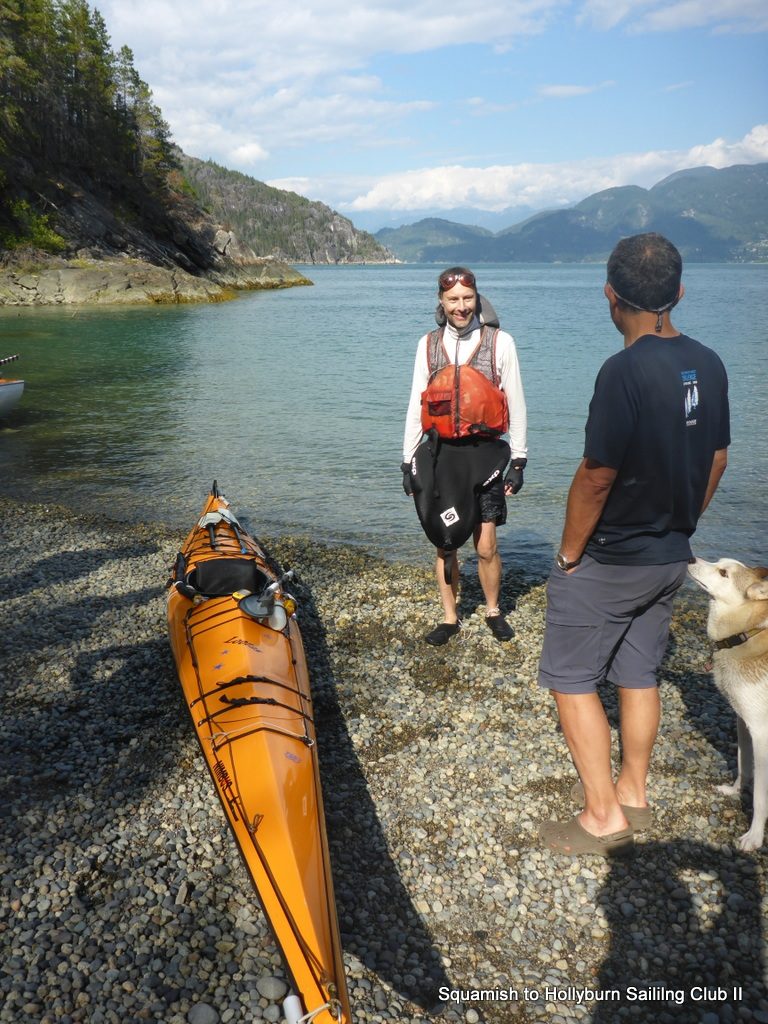 After a brief chat and some group photos he continued north and
arrived in Squamish at 6pm. Bernd made us feel that our achievement of mastering choppy seas going South was a little more than a warm up for him traveling about 60+ km hugging the coast… all in one day!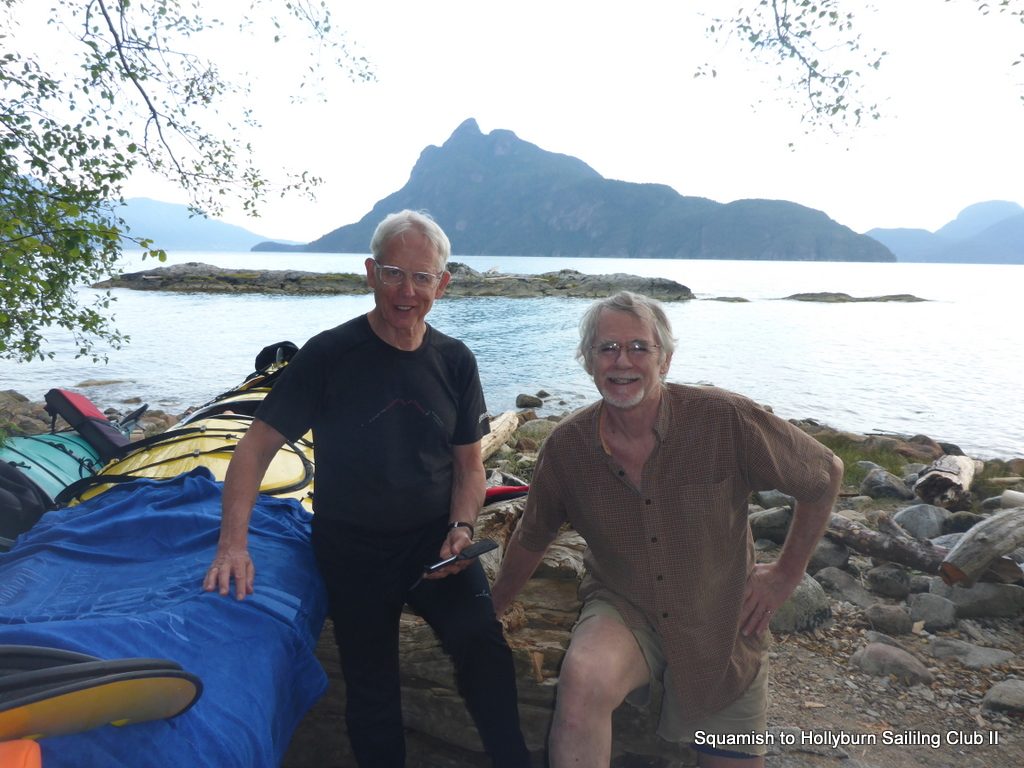 We had paddled about 20 km on Saturday, our shortest leg. We had a lovely pasta dinner made efficiently by Chef Maciej, and nestled into the camping
spots for some well-earned sleep.
Mike, one of the 'Ol Men in the Sea', anchored and slept on the water.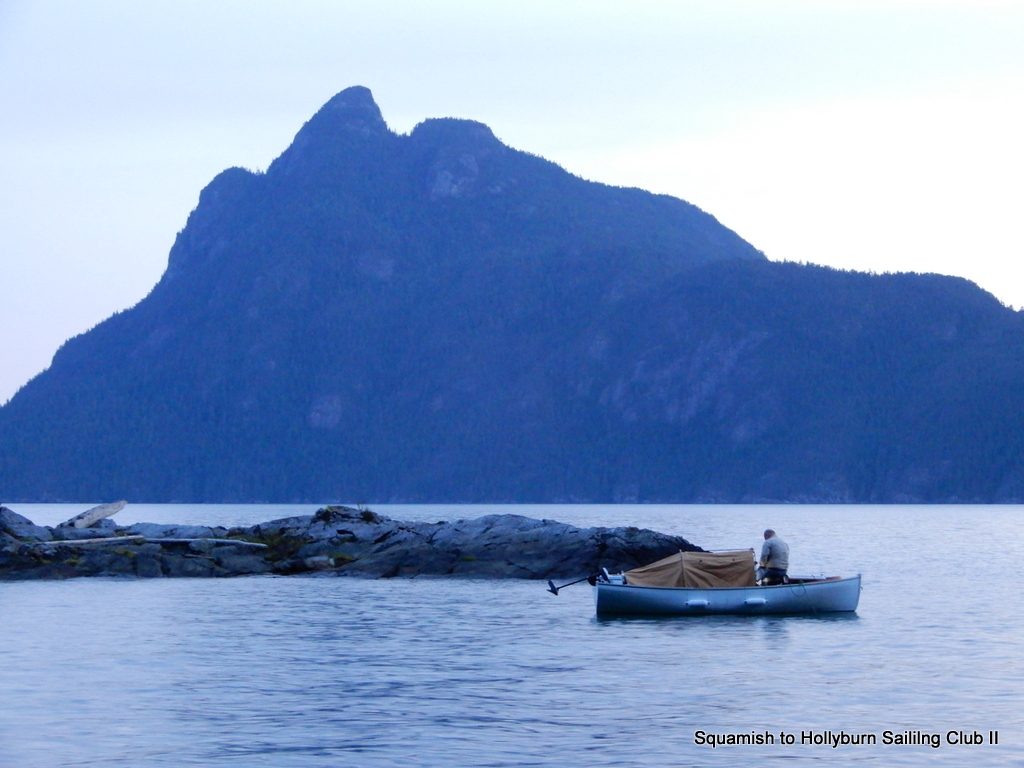 The Otters or seals seemed to want to play in the night, and we occasionally woke up to splashes … or maybe some curses that the bloody anchor had dragged with the tide!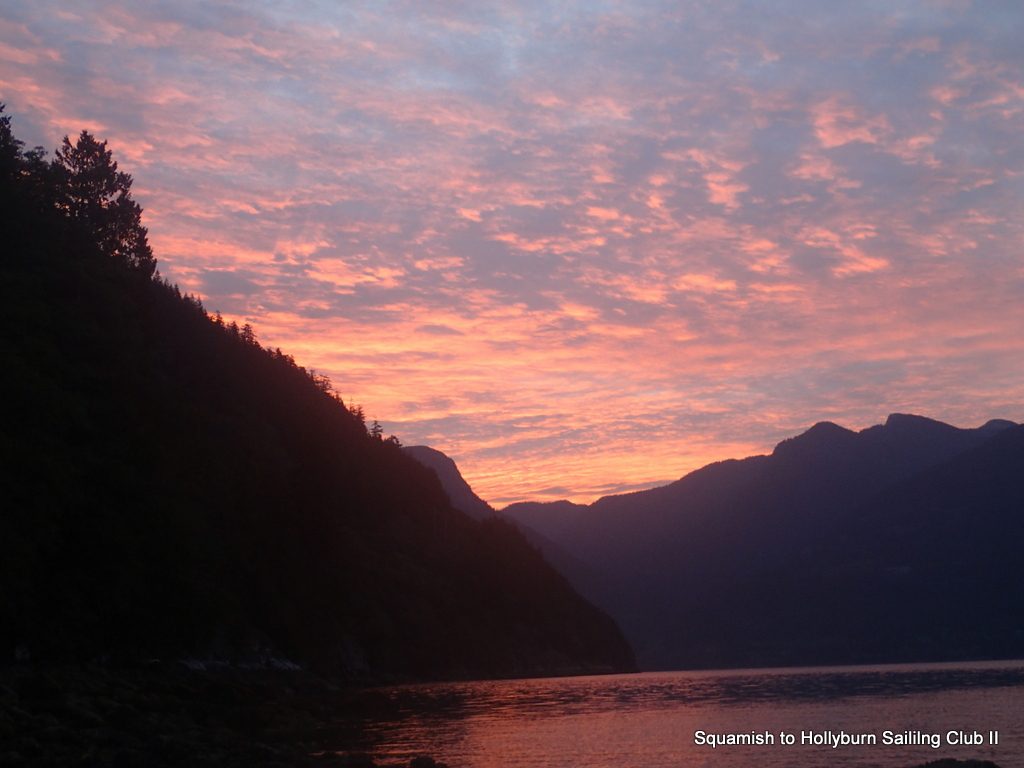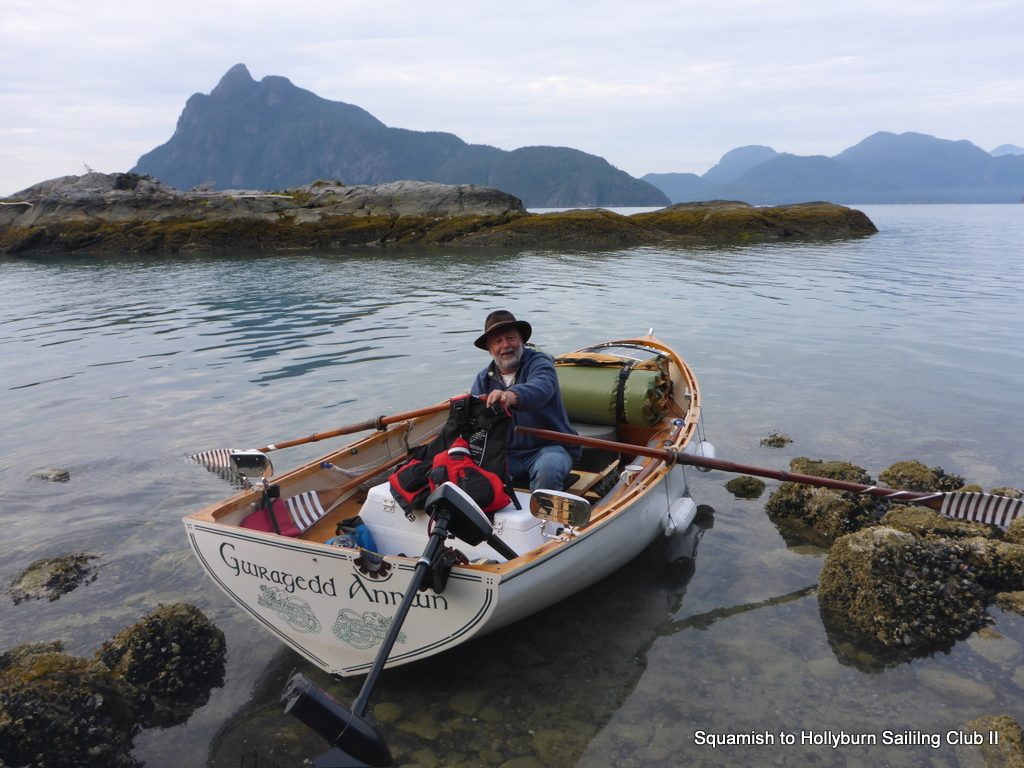 On Sunday (after Mike had rowed away) we had a hearty breakfast, complete with Maciej's delicious camp coffee, and then set out for
Sir Thomas J Lipton park on Gambier Island. Surprisingly,
we had very flat seas for the first part of the day. It was like paddling on a lake.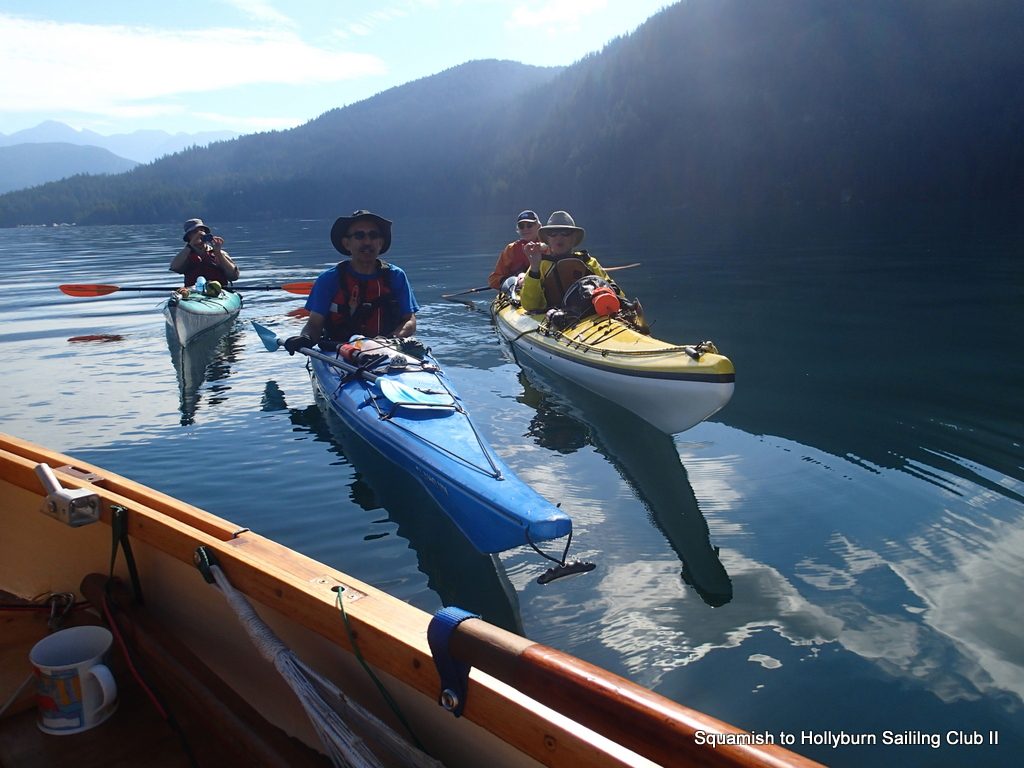 The final half of the 31 km leg was through choppy water around the Western side of Gambier. We lunched at a comfortable beach on an island at the South Western tip of Gambier, and then made our way North
into the bay where a lumber carrier built in 1919 – named after Sir Thomas J. Lipton of Tea Clipper fame – rested, her remaining hull still poking out of
the water to welcome us.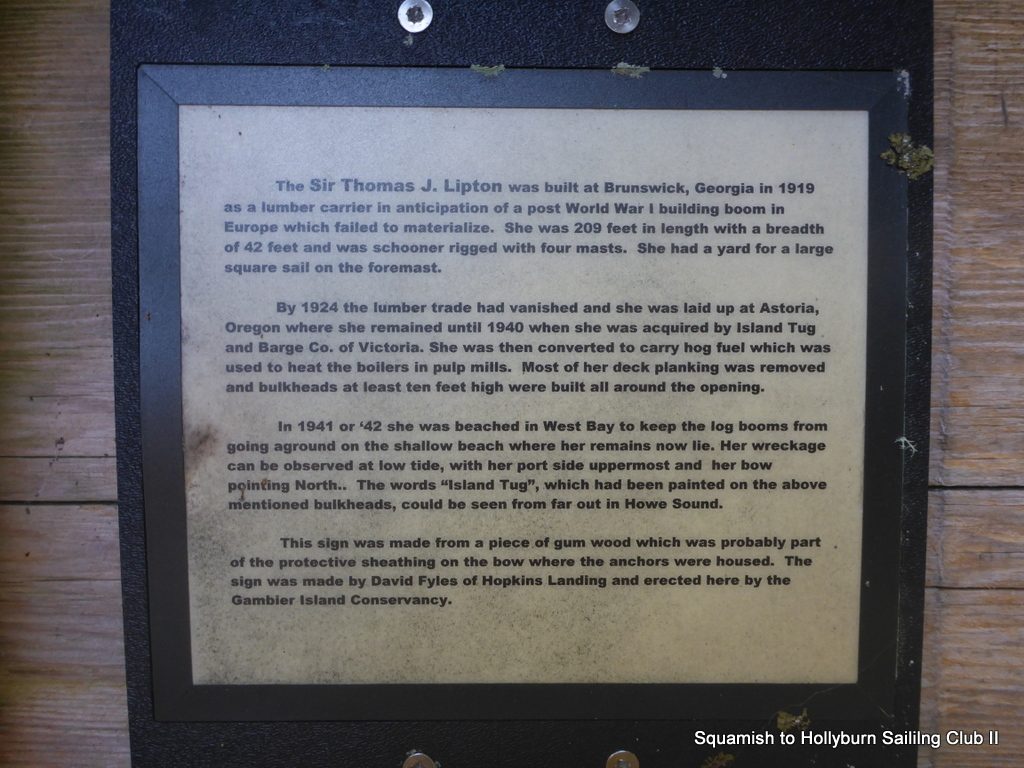 The campsite across from the Lipton was spacious and comfortable.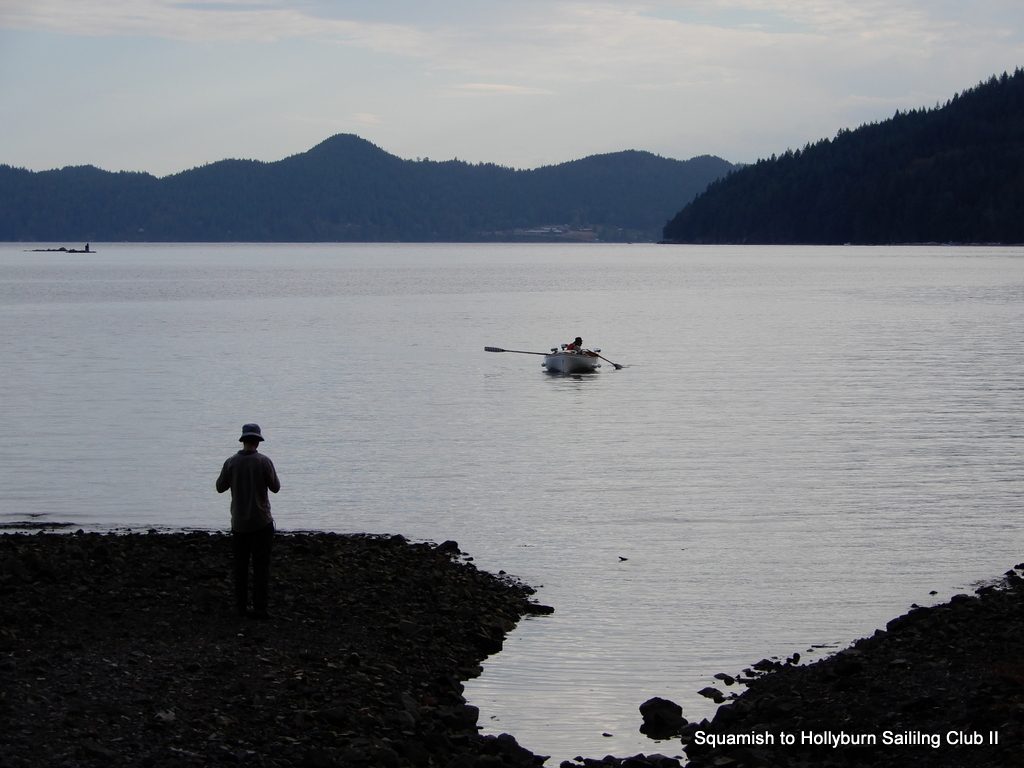 Rueben made a lovely dinner and we finished with lively conversation and bottles of wine and spirits to complete a wonderful day with smiles.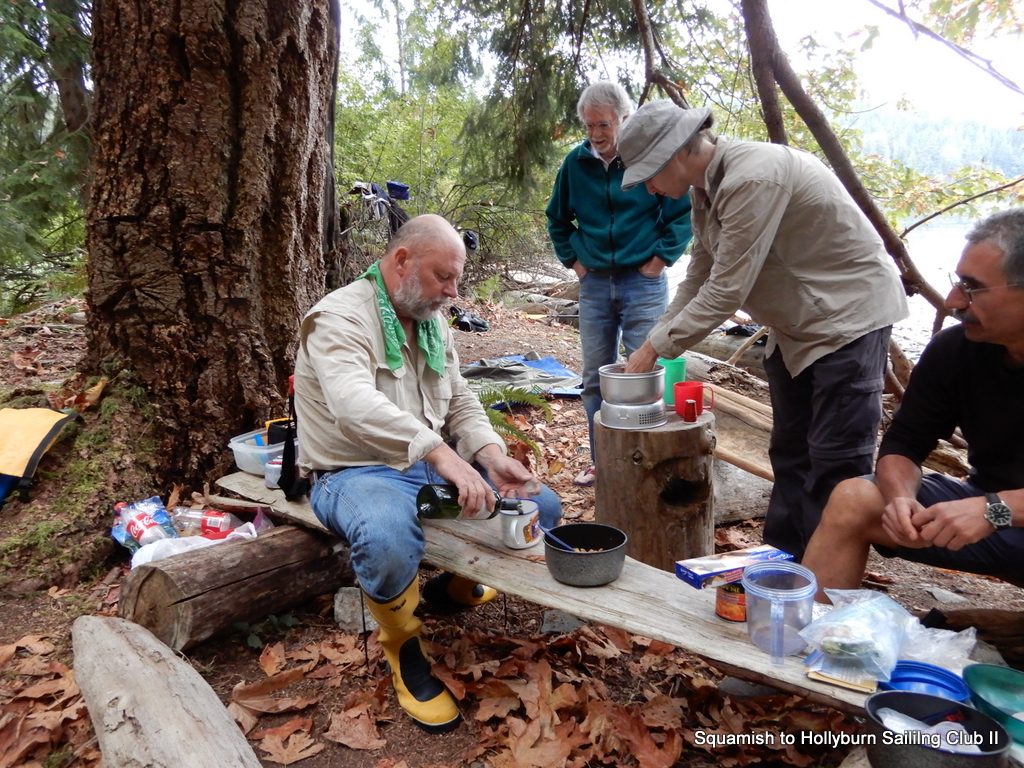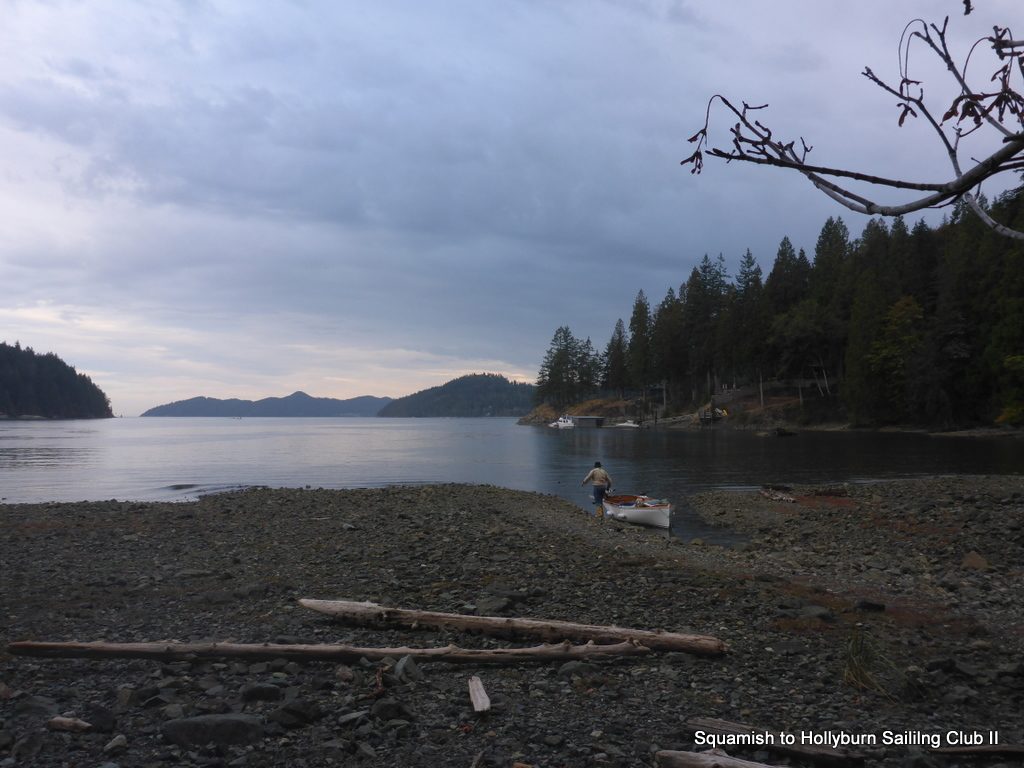 Monday Sept 3rd was Labour day… and labour we did. Another 31 km was recorded.
Maciej left early to get home in time for a pre-planned family event.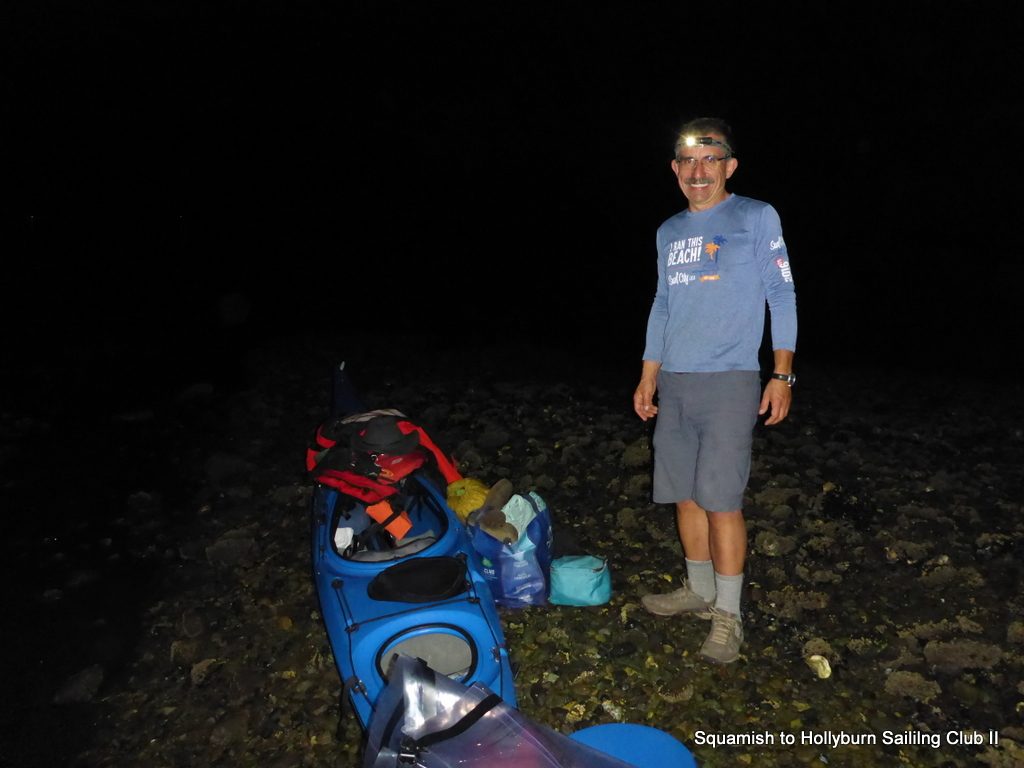 Mike left early to begin his long row home. Both encountered kinda gales at 7 AM – along with an Orca pod sighting leaving Gambier.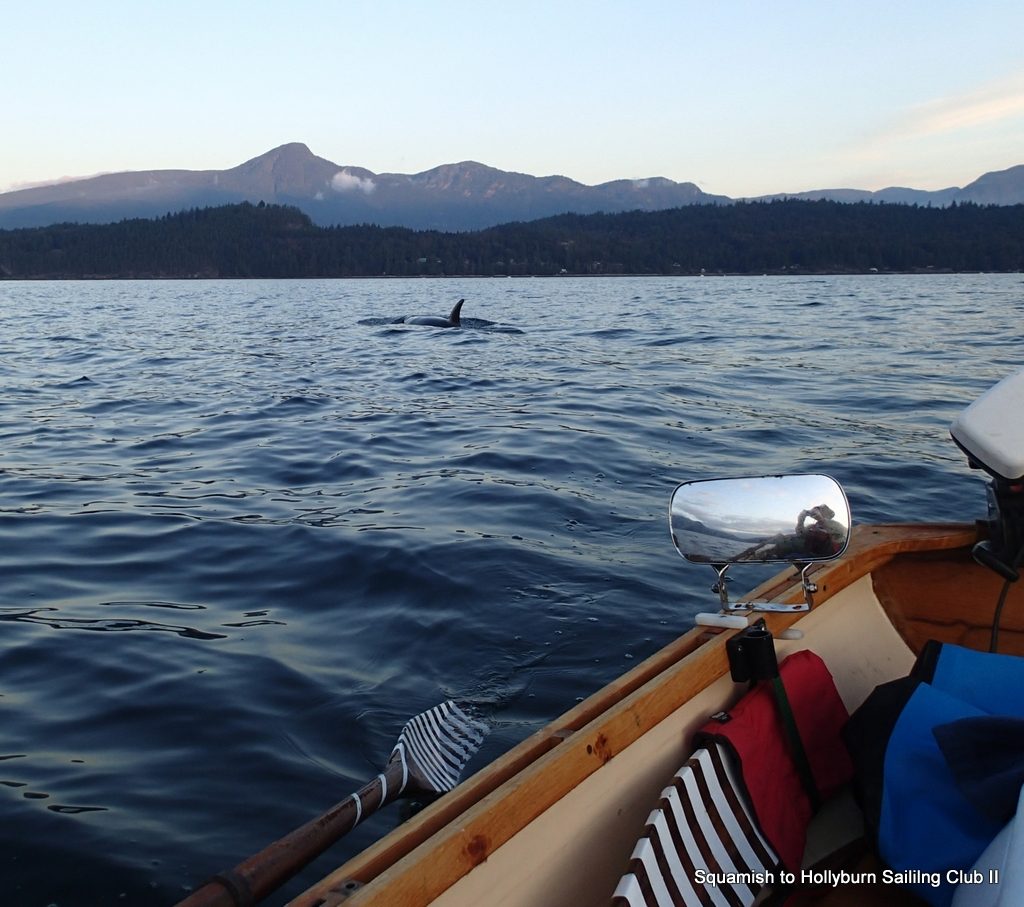 The rest of us had a more relaxing start at 8 AM and by then the wind had subsided and paddling was easy.
We managed to avoid the Ferries and then stopped off at Whytecliff Park for a light lunch.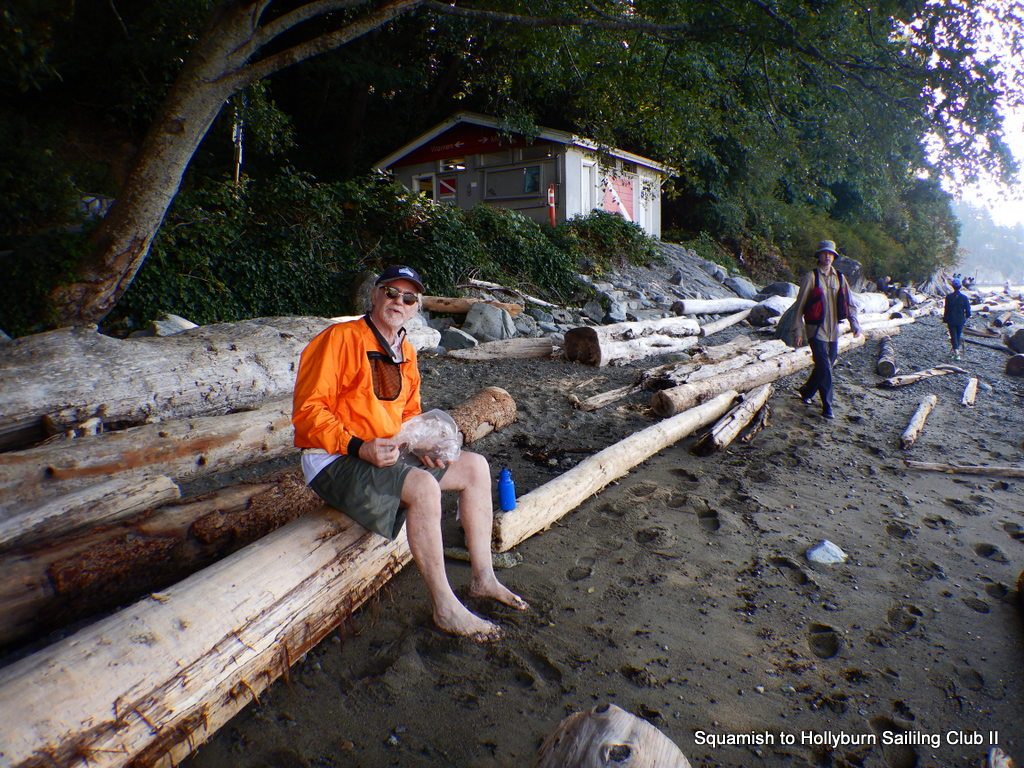 The kayakers caught up with Mike near Lighthouse Park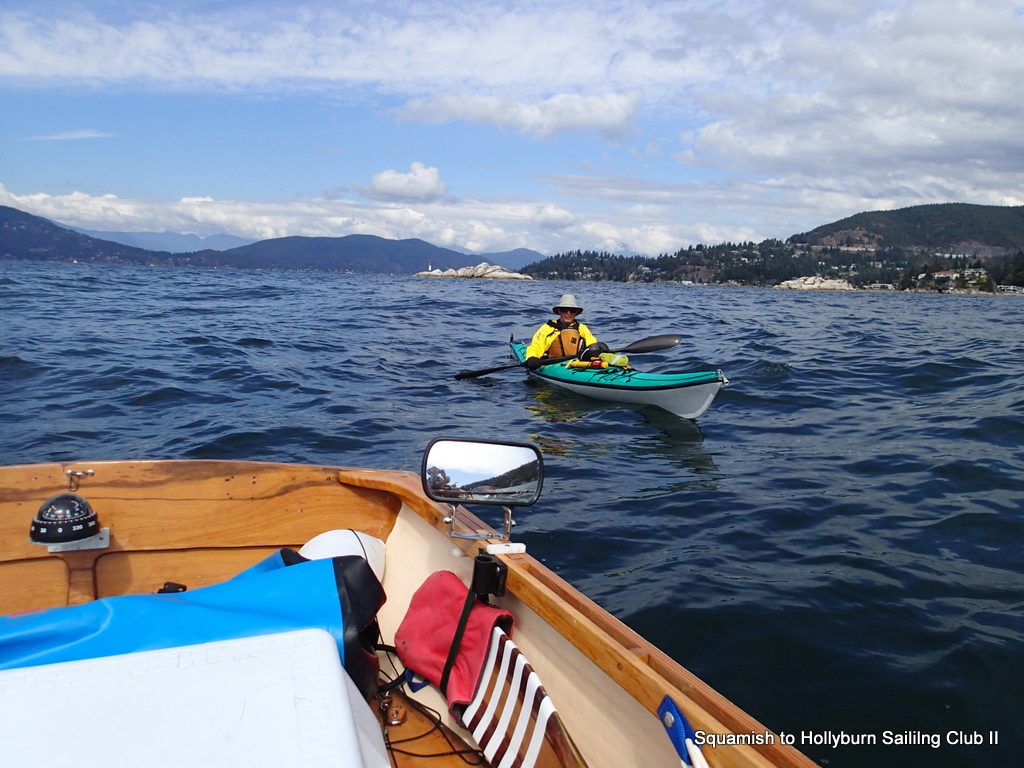 and shared stories of Mike greeting Orcas earlier swimming a few feet from his boat. Seas then became a little rougher and large 4 foot rolling waves provided some excitement with tired muscles trying to stay above water on the home stretch.
Kayakers arrived by 2 in the afternoon and Mike amazingly was not far behind.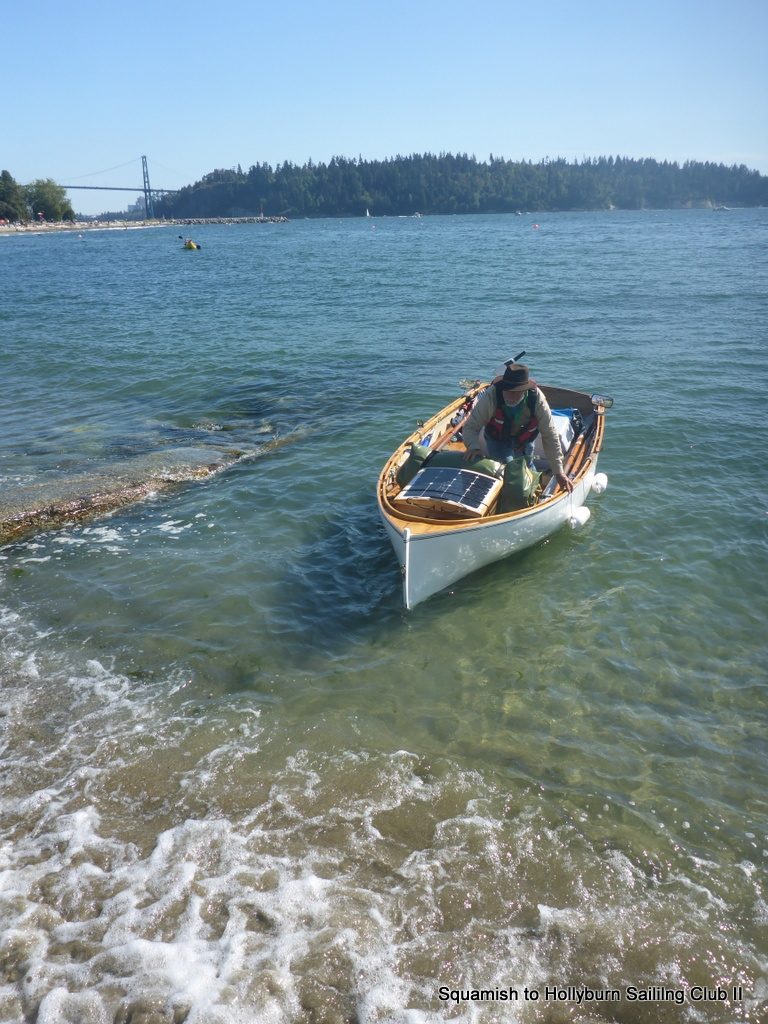 We all had smiles on our faces (and water in our boots)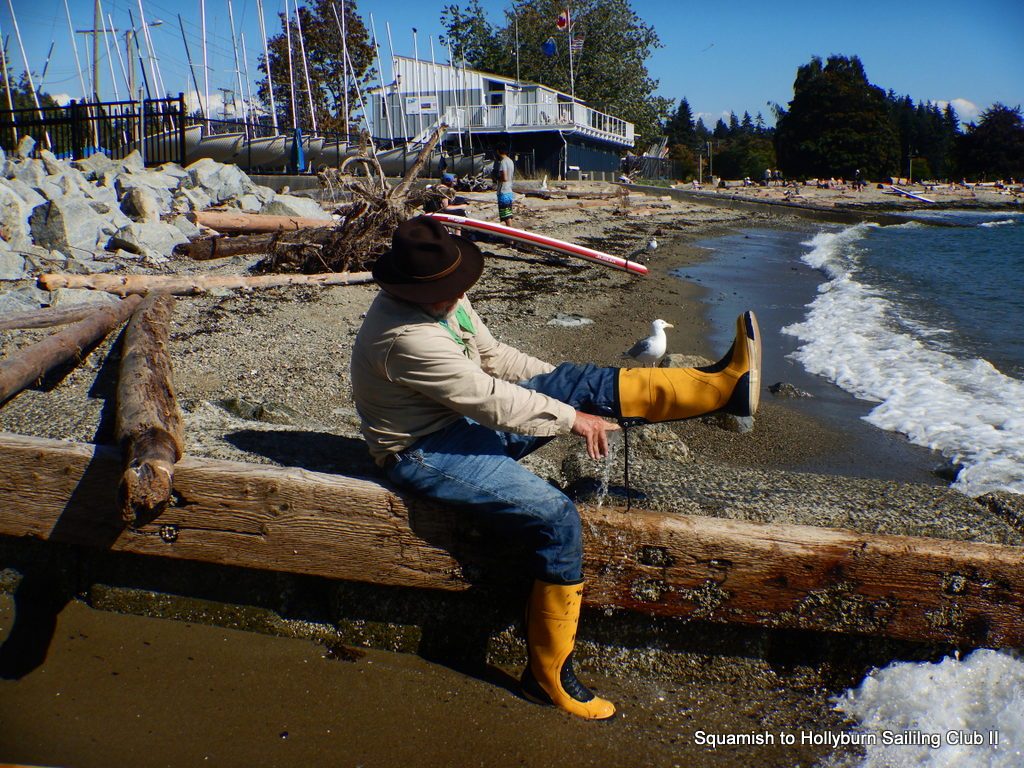 that we had indeed succeeded and could then stop the bloody paddling in favor of relaxing to heal our aching arms and blisters on our hands! What a trip! Along the way we saw some great views… beautiful scenery, historic spots, seals, orcas, and lots of other sea life. A big highlight was getting to know each other much better, and to sharing some very magical time.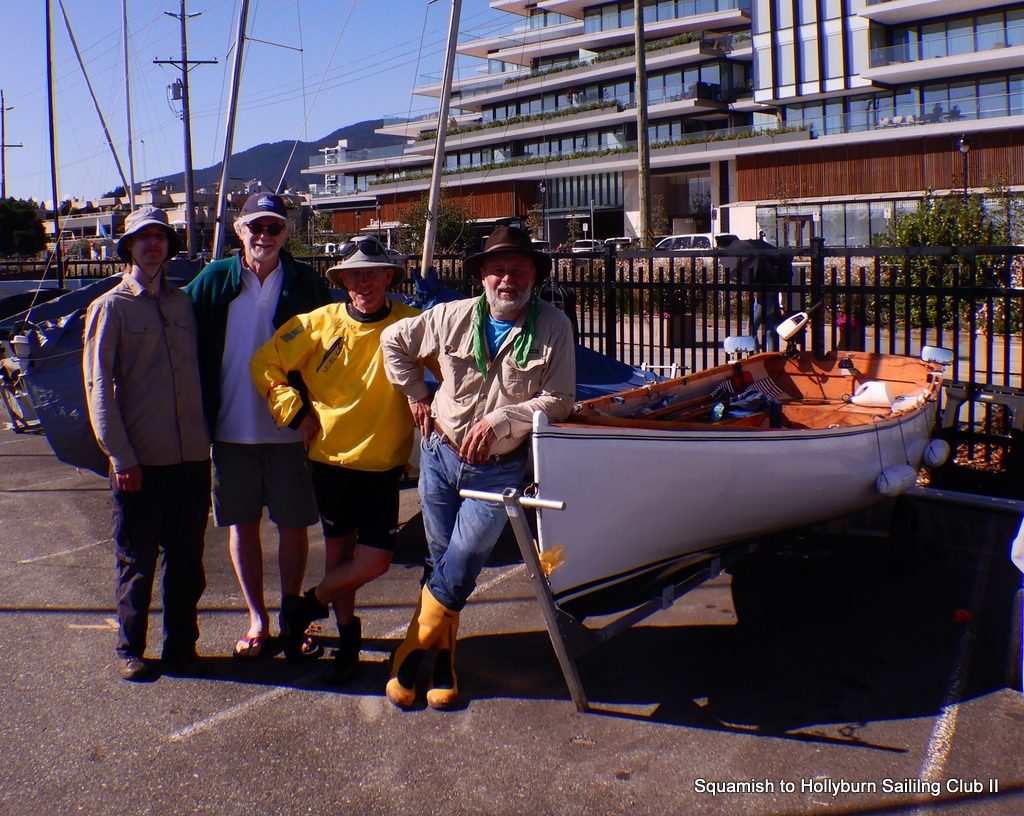 Tide Tables for the Squamish to HSC row:

A few notes on the wrecks in West Bay, Gambier Island.
In West Bay is the wreck of the Sir Thomas J Lipton of Tea Clipper fame. The name plate was gone, but there was no mistaking the rotting remnants of this piece of nautical history. If you are interested, look at the very end of West Bay.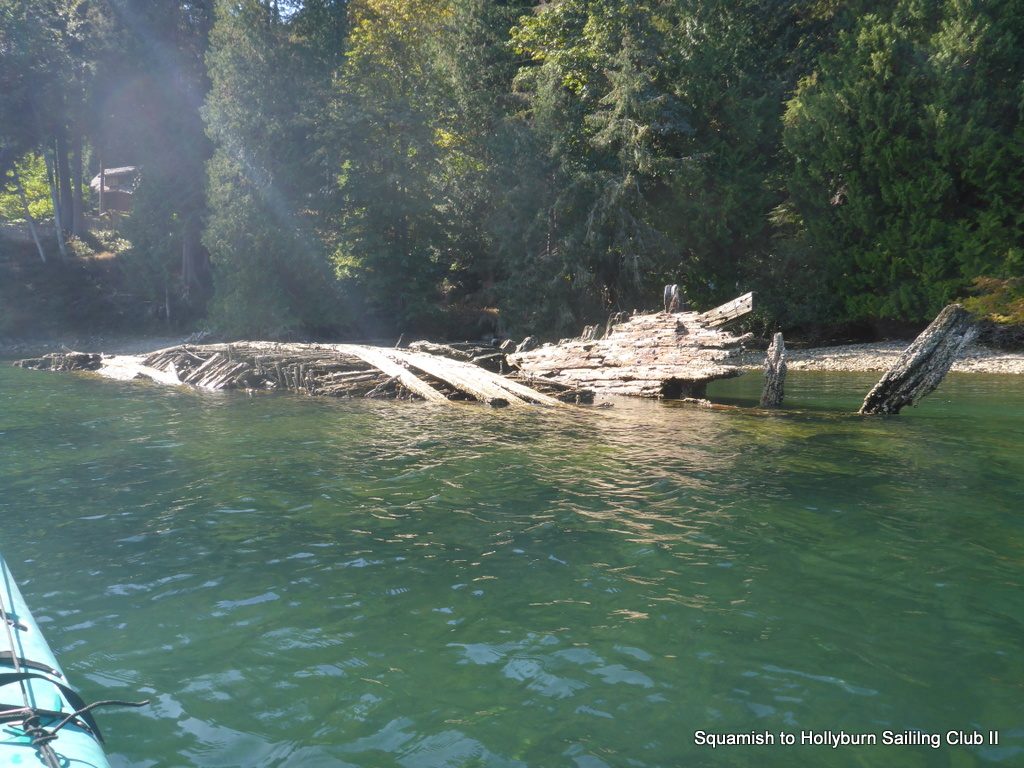 The Sir Thomas J. Lipton was built at Brunswick, Georgia in 1919 as a lumber carrier in anticipation of a post World War I building boon in Europe which failed to materialize. She was 209 feet in length with a breadth of 42 feet and was schooner rigged with four masts. She had a yard for a large Square sail on the foremast.
By 1924 the lumber trade had vanished and she was laid up at Astoria, Oregon where she remained until 1940 when she was acquired by Island Tug and Barge Co. of Victoria. She was then converted to carry hog fuel which was used to heat the boilers in pulp mills. Most of her deck planking was removed and bulkheads at least ten feet high were built all around the opening.
In 1941 or 1942 she was beached in West Bay (Gambier Island) to keep the log booms from going aground on the shallow beach where her remains now lie. Her wreckage can be observed at low tide, with her port side uppermost and her bow pointing North. The words "Island Tug", which had been painted on the above mentioned bulkheads, could be seen from far out in Howe Sound. (not visible when we camped there)
Another source lists the Sir Thomas J, Lipton, 1358 tons,schooner, 1918, 217405, LPHM. Apex Navigation.
Sir Thomas J. Lipton (schooner)
The 1,588 ton four-masted schooner Sir Thomas J. Lipton built at Brunswick, Georgia in 1919 and transferred to Honolulu in 1921 for the Northwest Lumber trade, was acquired by the Island Tug & Barge Co. of Victoria and transferred to Canadian registry as a barge. The vessel had been laid up at Astoria since 1924. Gordon Newell, Maritime Events of 1940, H.W. McCurdy Marine History of the Pacific Northwest.
Citation: Tacoma Public Library
The big steam tug Lorne, built in 1889, may be located in West Bay, Gambier Island.
There are two historic period sites, both located in West Bay, Gambier Island, containing five heritage wrecks, Site Di Ru-066 is the wreck of the Thomas J.Lipton, a four-masted lumber schooner of about 201ft. (64 m) length, 1205 net tons, built in 1919 in Georgia, Alabama, and converted for use on this coast as a wood chip barge (Stone 2007). The wooden hull was driven ashore and abandoned sometime after 1940, and remains a conspicuous, partially submerged, structure lying along the shore in West Bay. Site Di Ru-069 consists of four unidentified wooden wrecks some of which are exposed at low tide, down to 7 mbsl to the shallowest wreck component. The wrecks are described as two scows, a vessel (62m by 15m) one mistakenly thought to be the Lorne, but now thought to be a deep-sea barge, and a smaller vessel (Stone 2007).
Additional photos courtesy of Steve Britten, Ken Parr, Rueben Schultz and Maciej Sobczyk
Squamish to the Hollyburn
Sailing Club. A great trip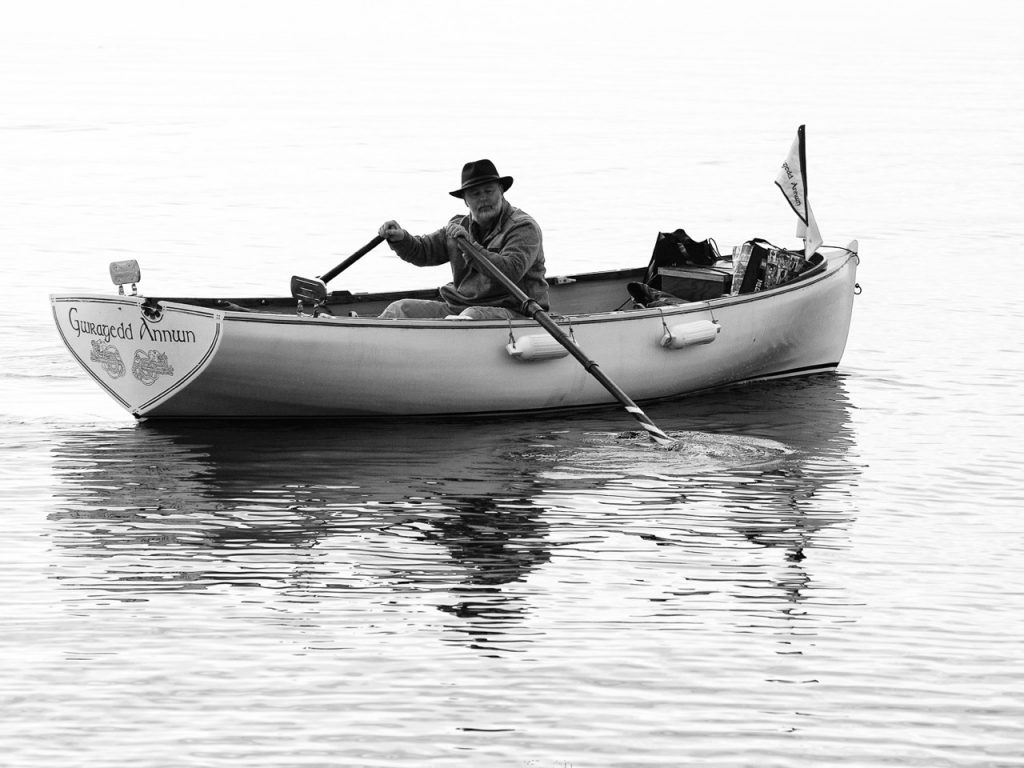 Mike